I can do that...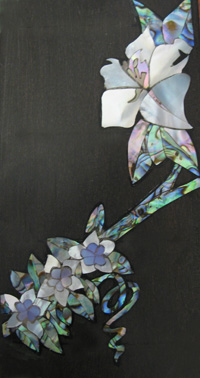 The main focus of my business, my sincere passion, is for custom designed, hand-cut inlays designed to be one-of-a-kind works of art for any "canvas" you desire. These special pieces are designed and cut by hand to optimize features naturally present in the specially chosen shell or other materials.

When the materials are chosen this way, the artwork takes on a three dimensional appearance and life of its own. The final result is very exciting.

Most of my clients are guitar makers and require repetitive design for logos, signatures and Fret markers. Though it is practical for that kind of work to go to a CNC shop, the flexibility of a custom artist allows for prototyping or one off materials changes.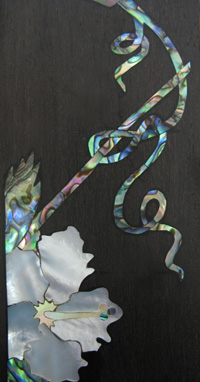 I love working with the beautiful materials of my craft.

I have always been interested in the work my mother, Kathy Wingert, was doing. I admired her guitars and the inlay on her guitars, some of which she did, and some that came from other suppliers. The day I was hooked was the day she received a piece from Larry Robinson . It was a beautifully detailed recreation of the Hokusai Wave.

With the expert and generous guidance of Harvey Leach, Judy Threet, and of course, with inspiration from the amazing Grit Laskin, I have enjoyed learning this craft and seeing my work on beautiful instruments.





"Jimmi Wingert creates fine and clean inlay work that I really admire. I say that not because she is my daughter, I say that because I love having her work on my guitars!"
Kathy Wingert

"Jimmi Wingert's inlay work shows great imagination and is cleanly executed. She knows how to use the materials to their best advantage and her designs are graceful. I look forward to seeing what she comes up with in the future." Larry Robinson